What is VOC Zagreb?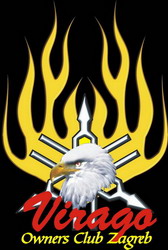 As title says, it's obvious that this is Club of Yamaha Virago owners. To become a member, you must own Yamaha Virago and of course contact us. Since 2011. VOC Zagreb accepts a Support members as well. Support member is anyone who loves Yamaha Virago, has any connection with the Club or simply want to support us.
On May 21st 1998 we started Virago Owners Club Zagreb web page so that day we consider as a "Club day". Since the web page has gathered group of people with the same interests, we decided to start registered association called Virago Owners Club Zagreb. Organizers are: Davor Borosak (President), Kresimir Kostelic (Vice President) and Zeljkica Hubak Siuc (Secretary). On April 12th VOC Zagreb gets club colors and flag.
Idea to start VOC was brainstorming (was born in head) of one enthusiast, later organizer, modeled on foreign Virago Owners Clubs. His wish was to gather as much as possible owners of that beautiful motorcycle, Yamaha, model Virago, to socialize, ride and help each other to customize, fix or maintain their metal pets.
The goals of VOC are: exchange ideas of customizing, additional equipment, fittings or kit, friendship, group travels etc.
The whole site is about motorcycle club and Yamaha Virago. For example: Why to buy a Virago, where to buy, how to fix it, where to buy accessories or spare parts.
Virago Owners Club is non-profit organization which goals are friendship, group travels, promoting Yamaha Virago motorcycle, which production unfortunately shuts down in 2003., mutual help to show "Bikers code", respect yourself, be honorable, and always help other in trouble. Do we succeed, it's on you to decide. Till now, we have participate in many humanitarian actions to help people and animals as well and we will continue.
Virago Owners Club - Why on English? We didn't think out this title by ourselves. VOC is an international club which first showed up in Florida US. Unfortunately, that club doesn't exist anymore. Their goal was to gather Virago owners. Shortly, VOC has spread through the US, then Europe, e.g. Netherlands, Great Britain, Norway, Belgium, and since 1998. at Croatia. American VOC-s has chapters everywhere and they are all part of one club. In Europe, each country has his own club and chapters.
In hope that Croatia will have more chapters of VOC, we called our club VOC Zagreb. Of course, you can join our club, no matter from where you are.
If you have any suggestions, let us now!